This article has been written with direct inputs from a traveler and expat Shawn Nay who is an American citizen and extended his Peru tourist visa successfully online.
"Why the hell would you go to Peru? I read they kidnap you and sell your kidneys down there?"–My mother.

Truth be told, when I started backpacking in South America, I had skim-read some blogs about Peru and didn't know what really to expect. But my mother surely had read a lot more than me and somehow, in all those stories someone died or got kidnapped or got raped.

After four months in Chile and Argentina, Peru was my third country in South America. I got 90 days when I entered Peru. At that time, I was like, give it a month or two and I am out. I spent a month in Amazon and I wanted to just stay there.
Trust me, I would have stayed in Peru for longer than 90 days and paid the fine happily had they not extended my stay. However, it turned out that extending my stay was actually pretty easy, although I did run into some roadblocks on the way.
And for the love of God, I hope they fix it, coz' they aren't pretty.
Here is how I extended the Peru tourist visa online and all other details. If you got any questions, shoot!
A lot of people also refer it to as extending Peru TAM( Tarjeta Andina de Migración), since you are simply extending your stay on your TAM card that you received when entering Peru.
Announcement: No more Peru Visa Extension since Aug 2021
Peru has discontinued the visa extension since Aug 2021. There is no clarity on when this will be resumed.
In case you overstay, you need to pay, the fee of S/ 4.60 (0.1% of an UIT) per day when leaving the country. This is in effect since January 1, 2022.
The only option for a visitor is to leave Peru or apply for a temporary or permanent residency by opting for a different type of visa.
What's your visa status?
1. Are you visa exempt for Peru but not an EU national?

You are at the right place. It means you entered Peru with a "temporary authorization to enter as a tourist" or TAM, and got an entry stamp for 90 days or less at the border Examples- USA, Canada, UK, Australia etc.

2. Are you an EU national?

You are visa exempt but you get 90 days in 180 days, so technically you shouldn't be able to extend their stay without the cooling-off period of 90 days. However, the reality is that lots of EU nationals have been able to extend their stay for 90 days right off online. So, I guess if you want you could take a shot. If the system doesn't allow you to extend online, head over to how to extend your tourist visa for Peru at an immigration office.

3. Do you need a visa to visit Peru? Did you enter with a Peru visitor visa, which is a sticker visa?

Sorry to say that this extension is not for you. Please check the process at an the nearest Peruvian immigration office. If you got lesser than 183 days on your visa, you should be able to get an extension. Examples- India, Nigeria, China etc.

Step 1 : Apply for the Peru TAM Extension Early
Don't be the last-minute guy. Once you know you are gonna be in Peru for the long run, apply for Peru visa extension.
And to be on the safe side, do it lesser than 10 days left or a couple of weeks before your current authorization expires. Once you overstay, you can't extend it.

Alright now, the first thing you gotta do is to check your details on TAM Virtual.
The reason I ask you to do this is to save you from a world of head-scratching and anxiety when you apply for the extension on the immigration website. Make sure your details are correct and that there are no typos.
Step 2: Pay Peru Tourist Visa Extension Fees- 11.70 Soles
Paying online on pagalo.pe :-
If you are unable to pay at the bank or simply don't want to go to one ( I mean who wants to wait in a queue), you can pay online on pagalo.pe. That's what I did.
You will need to register using your passport number, email, and phone number on pagalo.pe. Once you do that, log in and choose 'MIGRACIONES' from the list of choices under 'Efectua tus pagos aqui'.
Once you do that, you will be forwarded to select the exact reason that you are paying the fees. Choose the one that starts with 01857.
After that you will need to choose the one that says 'PRÓRROGA DE PERMANENCIA (PARA PAÍSES DE AMÉRICA DEL SUR, SEGÚN ACUERDOS BILATERALES O MULTILATERALES)' under 'Concepto'. Although this means that it applies to South American countries (probably the ones that are part of Mercosur), citizens of other countries have been able to pay using it. After you fill in your passport number, click on 'AGREGAR A CARRITO DE COMPRAS'.
Next, you will see it in the 'Carrito de compras'. When you click on 'PAGAR', you will be forwarded to choose from the options that go as Master/Visa/American Express credit/debit card.
Make the payment and it's all gold. Wait for the receipt on your email.
You should pay for it within two days. If you don't, there is a chance that it will be cancelled and you will have to do it from the start. And, in case it doesn't go through, you can download the receipt as a PDF, print it out and take it to the bank to make the payment in person as well.
Paying at the bank personally:-
The second option is to pay at the bank. Take your original passport with you and visit any Banco de la Nacion branch. Let them know that it's for the Migraciones administrative procedure "F-7 Prórroga de Permanencia" under code 01857.
When you make the payment, make sure that the teller has entered your details correctly and that the receipt has everything right well. If they mess up, you are gonna be in trouble. So double check everything. Save the original receipt.
Step 3: Apply for the Extension on Immigration Website of Peru
This is my favorite part of the process. But before you do this, consider going to a church/temple/mosque/whatever and making a little prayer. You will understand why a little later. Here is the one I went to in Lima after 15 years.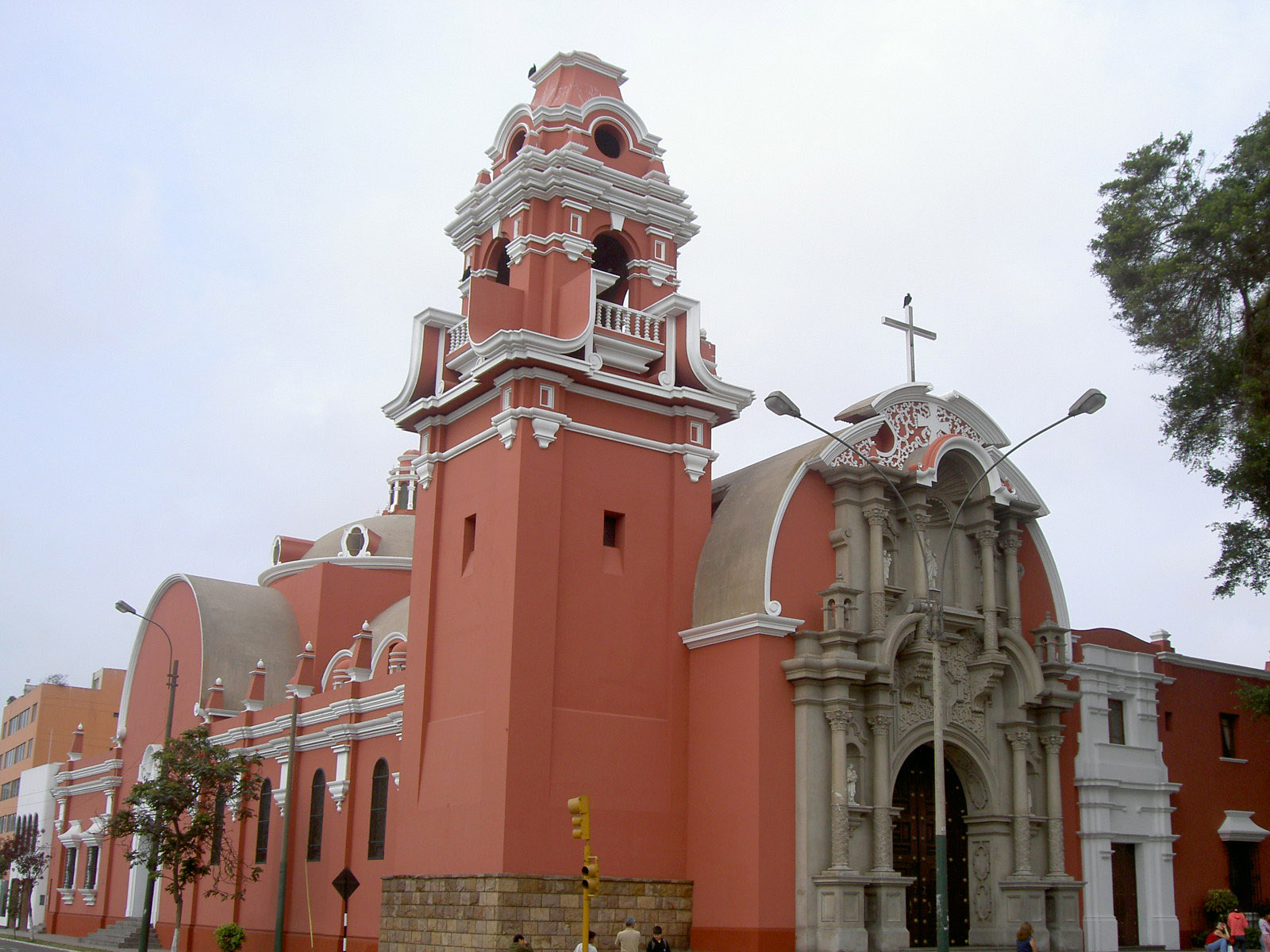 Ok, now visit the official immigration website and click on "Generar Prorroga". It will redirect you to the form F-007 directly. After you fill in your details such as your nationality, passport number and as such, click on 'Continuar'.
Tips:
Nacionalidad — Select your nationality from the drop-down menu. The country names are in Spanish. For example USA becomes EE.UU.
Días Prorroga Solicitados — The amount of additional days you are requesting. This should be up to a maximum of 90, as long as you're not exceeding the 183-day maximum already. If the system doesn't accept 90 days, try playing around with the numbers.
On the next page, you will need to enter some details from the receipt like the receipt number or "número" and the verification code or "Código de verificación" and the date.
If you paid it in the bank, then you can find the required information in your receipt as well.
Step 4: Pray Again
You will get a confirmation email with an administration procedure number (tramite no.) and the date of application.

But if there is one thing you shouldn't do in Peru, that's trusting the system.
So when you are done for good and a message pops up on your screen that your application was accepted, take a quick screenshot, and save it or email it yourself for future reference. And go to an immigration office to sort it out just in case.
Step 5 : Have Some Ceviche While Talking about How Awesome You are
Now that you have been able to get an extension for Peru TAM online, go to your favorite Cevichería and celebrate it with your friends who have done the same.
All Hell Breaks Loose. Troubleshoot.
Although in my case everything worked out without a hitch, I have heard and read people losing their mind over errors. While extending Peru tourist visa, the common ones that people seem to face are these three:
AVISO: NO EXISTE INFORMACIÓN CON LOS DATOS INGRESADOS
ERROR: NO SE PUEDE CONCLUIR CON EL TRÁMITE DEBIDO A QUE NO TIENE UN INGRESO REGULAR AL PAÍS
NO SE PUEDE ASIGNAR PRORROGA. LOS DIAS TOMADOS DEL PERIODO SOBREPASA LOS DÍAS DE PERMISO DEL PERIODO.
The reason you are getting these errors or any other errors could be because of, but not limited to:
Something that's very common is that the system doesn't always accept 90 days even though it should. Bring it down to 89 or 88 or 59, and try your luck.

You made a typo in entering your details. If you are sure you didn't, double check your details on TAM virtual. This is where your details are entered by the immigration officer when you set foot in Peru.

Maybe they made a typo with your first name or last name or something else. You can fix it by making the same typo on the F-007. I wouldn't recommend it but I know people who got away doing just that and it's not your fault that your details are not correct.

If the system can't find the information regarding your payment, go for a walk and try it again. The banking and immigration system are still out of sync it seems, and sometimes the system doesn't have your data updated.

If you are not able to access TAM virtual, it's not good news. This means the immigration officer messed up your details big time.

It could be your nationality or your passport number. And maybe you have done everything right and the system has got everything about you right, but you still have hit a wall.
Extending Peru Tarjeta Andina or TAM in an Immigration Office
If you have tried everything and the website doesn't give a shit, the next logical step is to extend the TAM for Peru at an immigration office. This unfortunately happens from time to time.
Try to reach out to the people at the Migraciones Facebook. They are pretty helpful as well. And if nothing works, jump to how to extend your stay in Peru in an immigration office in person.
Peru Visa Extension Fees
It costs 11.70 soles to extend the Peru tourist visa online or in an immigration office.
How Long Does the Peru Visa Extension Last?
The temporary authorization can only be extended for at most 90 days at one go, and up to a maximum of 183 days in 365 days. So it doesn't matter whether you got 30 days or 60 days or 90 days when you entered.
You can extend it for a maximum of 90 days.  However, you can get a clearance from Interpol to extend the visa after the first extension while making sure the number of days of your whole stay doesn't go beyond 183.
Have you tried extending a tourist visa for Peru online?
The Peru visa requirements and the immigration system in Peru are constantly changing. Lots of things are still new. If you have faced any issues other than those described above, please let us know in the comments.